Topics
Altcoins
After Bitcoin appeared, many new cryptocurrencies offered alternatives in terms of how they are used. The likes of Ethereum added new real-world functions and services. And there is also Dogecoin, a cryptocurrency influenced by internet memes that were created.
As the " joke " approach goes on, a Dogecoin-inspired cryptocurrency was born — Shiba Inu ( SHIB ) coin .
The SHIB coin is a meme-based cryptocurrency that uses the Japanese Shiba Inu dog breed for its logo. SHIB started gaining attention during the bullish market of spring 2021 but the real momentum gained after Elon Musk's SNL appearance.
Let's take a look at some of the features such as the coin's background, goals, and functionalities so that you can get a better idea if SHIB is a good investment for you .
Shiba Inu Coin Defined
SHIB is often referred to as a joke-influenced cryptocurrency that plans to outpace and be bigger than Dogecoin. The token working on the Shiba Inu blockchain is — as we know it now — called SHIB, and it is an ERC-20 token .
How Does Shiba Inu Coin Work?
Shiba Inu is a project launched in the Ethereum network. This is the reason the consensus mechanism of Shiba Inu is the same as the consensus mechanism of Ethereum : Proof-of-Work ( PoW ), transitioning to Proof-of-Stake ( PoS ) .The PoW mechanism entails that the mining rewards are based on the computational power of the nodes. The PoS mechanism bases mining rewards on the number of coins that you stake in the network .As noted above, SHIB tokens are ERC-20 tokens in the Ethereum network. Such tokens are fungible, meaning that they can be replicated because each one has an equivalent value .
Total Supply
The total supply of Shiba Inu is 1 quadrillion SHIB. This is an extraordinarily huge supply. Therefore, even though the supply of SHIB is limited, it is still large enough to have inflationary properties. As of October 2022, the circulating supply of Shiba Inu is around 549 trillion SHIB .At launch, 50 % of the total supply of SHIB was locked on Uniswap, and the other 50 % was sent to a crypto address belonging to Vitalik Buterin, an Ethereum co-founder. Thes e coins sent to Buterin are considered " burned, " even though they are still available if Buterin decides he wants to utilize them .
The Shiba Inu's Visions
Shiba Inu now has its own decentralized exchange ( DEX ). Released in June 2021, the ShibaSwap DEX will be used for trading various cryptocurrencies with SHIB tokens. ShibaSwap claims that it will be one of the safest and best exchanges in the market .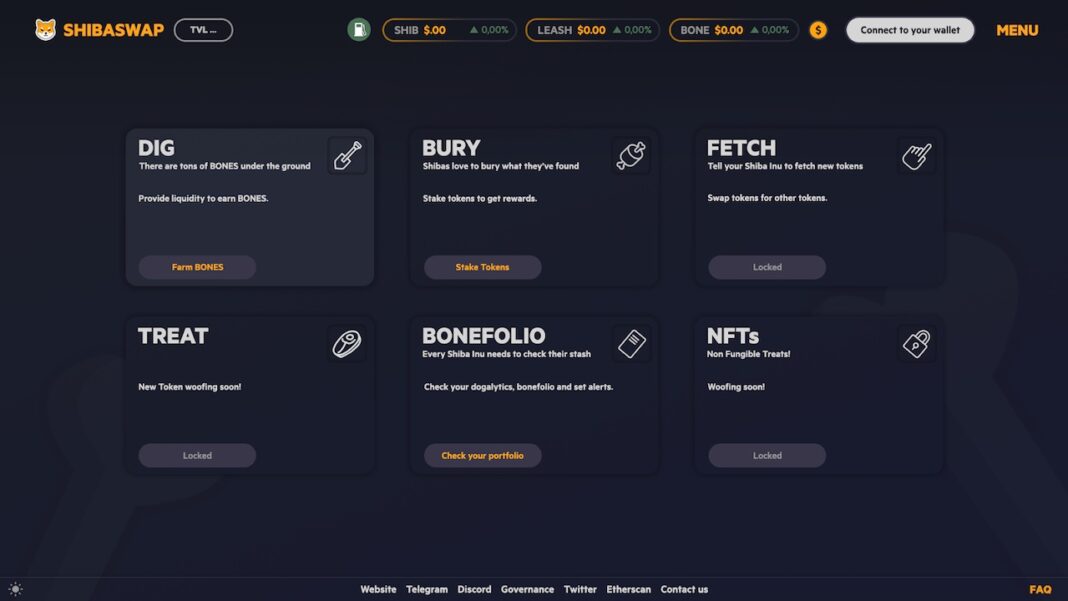 A look at the ShibaSwap Decentralized Exchange ( DEX ). Source : Shiba TokenSimilar to other liquidity pools, users can deposit tokens in the SHIB pool of ShibaSwap to earn interest. ShibaSwap is going to use terms such as DIG, BURY, FETCH, TREAT, and BONEFOLIO. By " digging " SHIB tokens, you provide liquidity to the SHIB pool and earn BONE tokens ( soon to be released ) .By " burying " SHIB tokens, you can stake tokens in the Shiba Inu blockchain and get rewarded with additional SHIB tokens. " Fetching " allows you to directly swap your SHIB tokens with other tokens. " Treat " is another token that is expected to release very soon. Last but not least, " Bonefolio " is the portfolio where you can access your stash .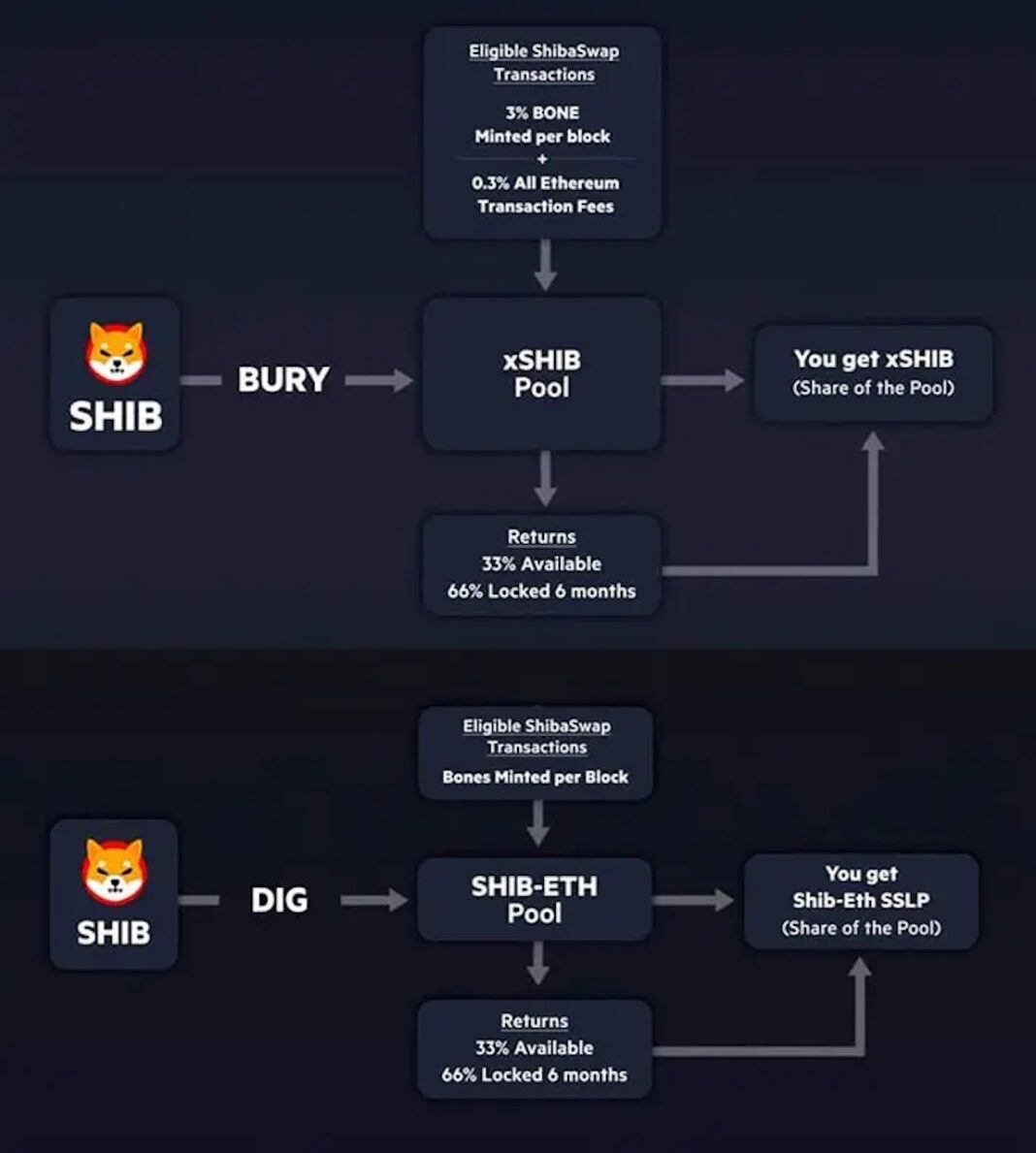 A Visual representation of how BURY and DIG options work on Shiba Inu. Source : Shiba Inu Woofpaper
In terms of tokenomics, the BONE token released along with ShibaSwap has a total of 230 million tokens. The BONE tokens can be used for voting as well as trading. Shiba Inu plans to focus these tokens on the field of decentralized finance (DeFi) even more.
There is also the Doge Killer (LEASH) token that operates as an ERC-20 token in the Shiba Inu blockchain. This token has a much lower supply compared to SHIB and BONE, with only 107,647 LEASH.
Because of this relatively low supply, the price of LEASH is much higher, with the highest of all time being close to $ 8,900 on May 11 th, 2021. LEASH can be purchased on both ShibaSwap and Uniswap .
The Origins of Shiba Inu Coin
Let's begin with the origin of the name Shiba Inu. Shiba Inu is a Japanese dog breed. This breed inspired internet memes with the name "Doge" in the 21st century. The meme became so big that it inspired some computer programmers to start a cryptocurrency based on it, which they called Dogecoin.
Initially, Dogecoin did not have any noticeable success. As the years went by and its community increased, Dogecoin started to become a serious investment. This influenced other people to launch their own cryptocurrencies based on memes, or simply based on Dogecoin itself. In this way, Shiba Inu was created .The founder of Shiba Inu is anonymous and goes by the pseudonym of Ryoshi. But unlike other Dogecoin-influenced coins, Shiba Inu actually has a specific goal : surpassing Dogecoin. Shiba Inu plans to achieve this by providing more and better services than Dogecoin. Such services might be the very ones ShibaSwap soon plans to implement .The project did not hold an ICO or any other sort of development funding. This might be one of the reasons why some of its features, such as ShibaSwap, are going to be added over time and were not included in the initial launch of the project .The 50 % of the total supply that went to Vitalik Buterin was initially considered as burned tokens. This was not the case when Vitalik Buterin actually used 50 trillion out of the 500 trillion to fund a Polygon charity that battles COVID-19 struggles in India .Buterin's donation accounted for approximately USD 1 billion worth of SHIB tokens. While this might have had a slightly negative impact on the price of SHIB, it helped to expand the Shiba Inu community even more .
Shiba Inu Coin Price History
SHIB started its price journey in August 2020 with a price lower than USD 0.00000001. Thes e very low prices persisted throughout 2020 and into the beginning of 2021 .The price followed the bullish trend of the market as it started increasing, reaching new highs of $ 0.000003 which shortly grew to $ 0.00003 in May 2021, marking a 3,300 % price increase within a week. This was followed by its biggest increase of all time in October 2021 when the price reached $ 0.000088 .By January 2022, the price had gone back down to USD 0.00003. The price has slowly decreased since and is trading around mid-2021 levels at $ 0.00001 .
Shiba Inu (SHIB) price history. Source:Shiba Inu ( SHIB ) price history. Source : CoinMarketCapAs of October 10 of this year, the price of SHIB is around USD 0.000011. With a supply of around 549 trillion SHIB, the market capitalization is near $ 5.9 billion, while the fully diluted market capitalization is around $ 6.4 billion. This market cap places SHIB at number 14 in the crypto market cap ranks .
Shiba Inu Current Projects
Currently, Shiba Inu has launched its native DEX — ShibaSwap along with the new tokens that are present in the Shiba Inu blockchain, such as the BONE, LEASH, and TREAT tokens. It also has an NFT collection called Shiboshis with many social advantages such as joining their exclusive club, direct communication with team members, etc .The launch of the ShibaSwap DEX, the aforementioned tokens, and its burn mechanism are likely to make Shiba Inu look like a much more serious project, as the field of DeFi seeks utilization. Additionally, Shiba Inu is working on its Layer 2 blockchain called Shibarium which the SHIB ecosystem will eventually migrate to once it has been completed .Shiba Inu has developed another project named Shiba Inu Rescue. This project involves rescuing actual Shiba Inu dogs that are lost or in need of rescuing. Using AmazonSmile is a platform, people can help out by donating to this project .The best part about the project is that it does not require any direct donations at all. Whenever you use AmazonSmile to order a product, you can type Shiba Inu Rescue along with the organization name, and a percentage of the money you spend on buying the product goes to Shiba Inu Rescue .Such a project establishes a positive and trustworthy environment within the Shiba Inu community. Projects like these are one of the reasons why some people no longer look at Shiba Inu as a joke cryptocurrency, but as something much more serious in the long run .
Is SHIB a DOGE Killer?
As mentioned, SHIB gets its name from its similarity to Dogecoin. However, it is not like every other doge-based cryptocurrency. SHIB is actually one of the first cryptocurrencies planning to " kill " Dogecoin. Hence, some people refer to Shiba Inu as a Dogecoin Killer .When you think about what SHIB and Dogecoin bring to the crypto market, the former might have the upper hand as it offers more services for its users. Since Dogecoin has the tư vấn of whale investors like Elon Musk and is more popular than SHIB, it is difficult to forecast whether it can actually become bigger than Dogecoin. Ultimately, only time will tell .
The Future of Shiba Inu Coin
Shiba Inu has promised additional upgrades in the network as well as the addition of new features. One of these features will be their very own L2 on Ethereum along with a Decentralised Autonomous Organisation ( DAO ) called Doggy DAO to involve the community in deciding the future of SHIB .
There are also plans to build an NFT marketplace exclusively on Shibarium. If it happens, users will finally be able to buy and sell non-fungible tokens with their SHIB tokens through the platform. This will be created with their metaverse — SHIB: The Metaverse and other games like Shiba Eternity within the ecosystem. Moreover, Shiba Inu has launched the Shiba Artist Incubator, by which they plan to recruit ten artists to create works that may then be minted as official Shiba NFTs.
In terms of the price of Shiba Inu, some experts believe that it may increase at a steady rate in the long run due to active upgrades while others think it is just a meme coin and will always remain as that. Also, keep in mind that Shiba Inu is heavily influenced by Ethereum since it is built within the Ethereum network. This will likely be the case for the upcoming L2 Shibarium as well, while Ethereum continues to tăng cấp its blockchain on Ethereum 2.0, changes in Shiba Inu are expected too .
The Bottom Line
To conclude, SHIB has slowly started to shift from a " joke " coin into a serious cryptocurrency. With ShibaSwap ' s plans for updates and NFTs, the network is very likely to enter the watchlists of many investors. It still has a long way to go before becoming a serious competitor to Dogecoin, but it is definitely on the right track to do so .So, with the newfound knowledge in crypto, why not sign up for Bybit ?